Ski school Ratschings/Racines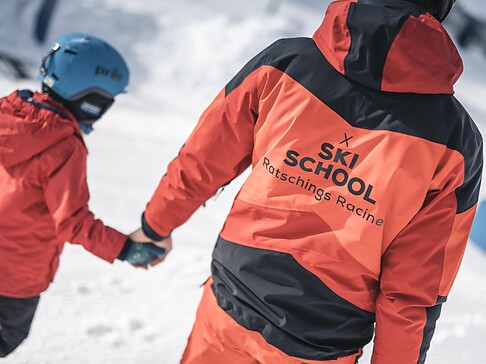 General description
Learning the correct skiing technique and mastering this discipline greatly increases the pleasure of going down the track and ensures greater safety. Ski instructors, alpine and ski mountaineering guides, snowboard instructors and cross-country skiing instructors of the Racines-Giovo school, trained according to the most advanced teaching techniques, will help turn your fun on the snow into an exciting experience to live and share with others.
description to arrive at destination
Coming from Sterzing/Vipiteno, drive in the direction of Ratschingstal/Val Racines. In the village of Stange/Stanghe turn left into the Ratschingstal and follow the road for about 7 km to Innerratschings/Racines di Dentro.
Park
A large parking deck and free parking area are available to visitors.
Public transport
By bus 319 (Sterzing/Vipiteno-Ratschingstal/Val Racines) from Sterzing to the bus stop in Bichl/Colle.
Detailed timetable information at www.suedtirolmobil.info/en
Contact
Innerratschings/Racines di Dentro 17
Back to overview