Obere Gewingesalm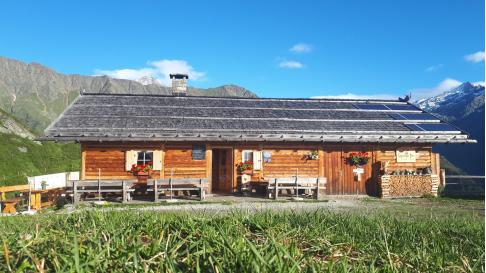 Starting point: Ridanna – Steinhöfe (1.494m)
From Gasse in Ridanna turn left in direction "Entholz". At the sign to the upper Gewingesalm drive on about 2 kilometers to a wooden bridge and further on to the Steinhöfen, where you can park your car. From here further on, first along a forest path until you reach a forest clearing, from where you hike left on a forest path a bit steeper uphill to mountain meadows. From there follow a forest path to the mountain hut Zunderspitzhütte and after about 20 minutes you reach the upper Gewingesalm.
Alternative 1: starting from Masseria behind the Hotel Schneeberg – walking time 2h
Alternative 2: starting from Ried at the fire station – park area Gewingeshof – walking time 2,5h
Tip: traditional farmer's meal, grey cheese and alpine butter, on the weekend roasted lamb; traditional dishes "Rahmmus" and "Ribler" on reservation.
Summer
17.06.2022 - middle of September 2022
Contact
Innkeeper
Hans Gschliesser
Location
39040 Val Ridanna
Back to overview