Wellness Spa Balneum
Your relax area in Vipiteno/Sterzing
Balneum,
the wellness spa & bath
guarantees an extraordinary sauna and bathing experience. Immerse yourself in the Alpine wellness flair. The spa area was tastefully decorated with elements of the local area. Experience inviting panoramic
relaxation rooms
, decor elements from the Pfitsch valley silver quartzite and slow your heartbeat in the hay room.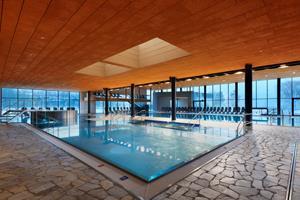 The Balneum offers fun for young and old all year long. Relax in the
spacious sauna facilities
and seek tranquility in the alpine oasis. Swimmers and families are going to be entertained in the basins of the indoor pool in the winter, and the sunny lawns and the swimming pool in summertime. The beauty department and the bistro-café round off perfectly a relaxing vacation day.