(
35
accommodations found)
Sennerhof
from 693 €
Farm holidays in Ratschings/Racines
Accommodation for 2 Adults
Apartment 3 personen
Equipment: Double bed, Extra bed, Double sofa bed, Terrace, Garden, Separate living area, Bed linen provided, Safe, Non-smoking apartment, Eat-in kitchen, Coffee machine, Microwave, Cutlery provided, Hob, Shower/Bath tub, Hair dryer, Towels, TV, Satellite/Cable, WLAN, Cleaning upon request, Final cleaning included, Main building, Panoramic view
Accommodation for 2 Adults
ca. 60-70 m² The largest of our suites featuring lots of space is ideal for families with children thanks to the two separate bedrooms. It's also perfect for guests who simply want extra space or to sleep separately. Features Two separate bedrooms, shower, WC, whirlpool, hairdryer, telephone, Wi-Fi, satellite TV, minibar, safe.
Equipment: Suite, Double bed, Extra bed, Cot, Sofa bed, Balcony, Living area, Anti-allergic room, Mini-bar, Safe, Shower / Bath tub, Separate WC, Bidet, Hair dryer, Bathrobe, TV, Satellite/Cable, Internet access, Main building, Panoramic view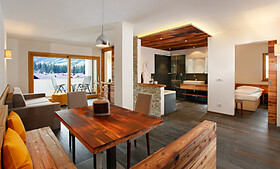 Accommodation for 2 Adults
We renovated this suite in spring 2019 and completely refurnished it as well. We chose beautiful earthly color schemes to create a perfect symbiosis between modernity and tradition of the valley. The suite is located towards the south and allows a wonderful mountain view. The living area and the bedroom are two seperate rooms. The suite may also be booked by families, the children can sleep in a bunk bed that is devided by a Loden curtain.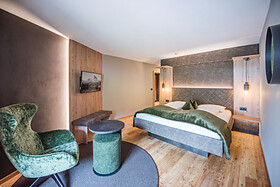 Accommodation for 2 Adults
Equipment: Single bed, Double bed, Extra bed, Cot, Double sofa bed, Balcony, Terrace, Garden, Bed linen provided, 2 or more bedrooms, Eat-in kitchen, Coffee machine, Dishwasher, Electric cooker, Microwave, Cutlery provided, Hob, Shower/Bath tub, 2 or more bathrooms, Bidet, Towels, Washing machine in the apartment, TV, Satellite/Cable, WLAN, Cleaning upon request, Main building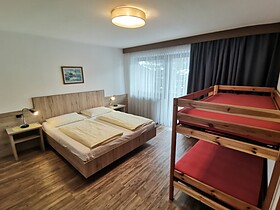 Equipment: Double bed, Extra bed, Cot, Double sofa bed, Balcony, Terrace, Garden, Bed linen provided, Eat-in kitchen, Coffee machine, Dishwasher, Electric cooker, Microwave, Cutlery provided, Hob, Shower/Bath tub, Towels, Washing machine in the apartment, TV, Satellite/Cable, WLAN, Cleaning upon request, Main building
Accommodation for 2 Adults
Equipment: Double bed, Double sofa bed, Balcony, Bed linen provided, Safe, Non-smoking apartment, Eat-in kitchen, Coffee machine, Dishwasher, Electric cooker, Cutlery provided, Hob, Shower/Bath tub, Bidet, Hair dryer, Towels, Washing machine in the apartment, HiFi, TV, Satellite/Cable, WLAN, Panoramic view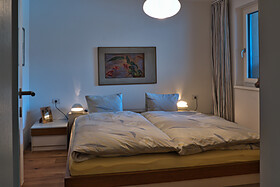 Accommodation for 2 Adults
Hollerhof
from 420 €
Farm holidays in Racines | Ratschings
Accommodation for 2 Adults
Accommodation for 2 Adults
Equipment: Double bed, Cot, Bunk bed, Balcony, Garden, Air conditioning, Anti-allergic room, Bed linen provided, Non-smoking apartment, Eat-in kitchen, Coffee machine, Dishwasher, Electric cooker, Cutlery provided, Hob, Shower/Bath tub, Hair dryer, Towels, Washing machine in the apartment, TV, Satellite/Cable, Internet access, Cleaning upon request, Season rental possible, Main building, Panoramic view