The Isarco Valley holiday region
The Valley of Trails in Südtirol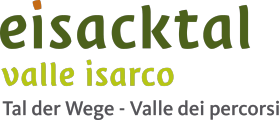 The Eisacktal holiday region is located in the heart of the Alps, beetween the Italian boarder by the Brennero/Brenner pass and Bolzano/Bozen. Enjoy a vareity of landscapes from the high alpine flair of the Zillertaler Alps in the Pfitsch and Pflersch valley to the vineyards of the southern Eisacktal by Chiusa/Klausen. Discover the whole charme of our cozy holiday region.
The Eisacktal is also known as valley of trails. The Roman civilization errected the first documented trails through the valley. The german kings passed the valley for their coronation in Rome since the medieval epoch. A small selection of this trails is still in use today. Accompanied by the unique mountain scenery you will surely pass beautiful hiking days in the Eisacktal valley.
Experience the pure fascination of the Alps in Pfitsch valley. Climb on the Hochfeiler summit, with 3510 m highest point of the Eisacktal. Cultural highlights can be found in the three cities Bressanone/Brixen, Vipiteno/Sterzing and Chiusa/Klausen - the last two are counted to the most beautiful old towns of Italy. The northern part of the Eisacktal, Sterzing and its vacation valleys, is characterized by the dairy industry and the tasty Sterzinger yogurt. The southern part of the region is characterized by a vaste apple cultivation and vineyards.
In Villnöss valley you can admire the Dolomites, which are a Unesco World Natural Heritage. Bressanone/Brixen takes you into the past of a thriving bishop's city. The nearby Neustift monastery is always worth a visit. By the Neustift attached wine cellar you can taste one or the other precious drop of wine. The Fanes-Alm in Gitschberg-Jochtal is one of the most rustic alpine villages in the Alps. In the Eisacktal valley you have only one thing guaranteed: your personal way to a relaxing and exciting holiday!